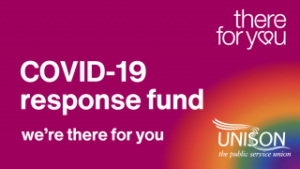 There for You
There for You is the charity for UNISON members that helps with practical and financial support that members may need.  Despite the current difficulties, they remain open and are there to help in any way that they can. 
How they are responding to Coronavirus
They are already receiving applications from members who are in financial difficulties as a result of the Coronavirus. In some cases, this has sadly meant providing support to those who have lost loved ones – including help with funeral costs.
CoVid19 Response Fund
For many of our members, work and household income has suddenly changed overnight.  Whether as a result of ill-health, loss of income or increased work-related costs, many will be feeling anxious about how they will make ends meet, pay household bills and put food on the table.
They are here to help in whatever way they can and is why they've established a special CoVid19 Response Fund.  This new hardship fund will help ease the immediate financial pressures faced by members including those who have become more vulnerable by providing an immediate grant of £250 to help with essentials. You can read more about this at https://www.unison.org.uk/news/article/2020/05/covid19-support-fund/
Eligibility
To be eligible for a COVID-19 grant the following must apply either to the member and/or their partner:
Suffered a reduction in earnings as a direct result of the coronavirus crisis which has put them in financial difficulty (this could be linked to work or health related reasons) and/or
Member and/or partner is a key worker with increased work-related costs as a result of the crisis, e.g. transport, care, or laundry costs.
Also
Be a UNISON member with at least 4 weeks' membership and have paid their subscriptions;
Have savings of less than £800
Be applying for or in receipt of any statutory help that they may be entitled to.

How members apply
Members in financial difficulty can apply direct by completing a simple online application form and attaching some supporting documents which will help reach a quick decision.
For all the details and, the application form itself go to: CoVid19ResponseFund
_____________________________________________________________________
Other important information
By way of a reminder, please also note that There for You have introduced a streamlined version of the main financial assistance application form which members can now complete electronically.  They are actively encouraging members to use the electronic form where possible as this will result in receiving the application sooner.  Members can apply without going through the branch.
For further information go to: https://www.unison.org.uk/get-help/services-support/there-for-you/financial-assistance/ and then scroll down to the section on 'Financial Assistance.